Discover What To Do When You've Been Scammed Out of Crypto
Through our Crypto Scam Evidence Report find out:
What REALLY happened
Where did your cryptocurrency go
Where is it now
Who took it
Your options for getting it back
In 3 to 5 days From Today, You Could Have The Evidence You Need to Ask Law Enforcement To Investigate Your Case and Push Towards a Recovery.
My name is Michael, founder of Rexxfield.
Someone dear to me was once in your position. They knew I worked as a private investigator, and knew better than most the warning signs of a typical scam.
But still, they were scammed out of over $200,000 in cryptocurrency.
We both suffered the same confusion, frustration, anger, and embarrassment you have been going through.
They thought they'd been so careful and would never be a victim. But yet, they were.
And when they went to the local police, the police said "Sorry, we can't help, and don't be so stupid next time." Yes, that really happened!
I'd been a non-crypto investigator since 2008, and this case compelled me to use my investigative and software building skills to develop the tools and technology to overcome the resistance that law enforcement has to taking crypto cases, investigating them, unmasking perpetrators, issuing subphoenas and building relationships with powerful people who did want to know and wanted to help.
After much trial and error, we finally have dialed in a process to provide YOU with the information that law enforcement are looking for to take your case.
Our Advantage
Rexxfield's Formula: Crypto + OSINT + Social Engineering + Subpoena
This is the secret formula that brings together traditional PI and cryptocurrency tracing and 15 years of experience to give you the BEST CHANCE of gaining the outcome you need.
This is our solution for you….
Many people believe that cryptocurrency transactions can be returned, like reversing bank or credit card transactions.
And that is what recovery scammers will tell you, but sadly, that is not the case.
We are not got going to pretend that recovering your cryptocurrency is easy – it's not. But it is sometimes possible to get a partial or full recovery of your crypto – but it is VERY HARD and MOST people will fail.
The fact is that recovering crypto depends on a thorough investigation conducted and reported in a way that enables law enforcement to use the evidence to quickly investigate your case – to execute subphenas, freeze your stolen assets, gain KYC information on the perpetrators and get a court order for recovery. It takes time and a high quality investigation.
If you are not going to be the 'most people' who fail, then you need to read below to discover how Rexxfield gives you the advantage and a chance to have justice done.
Seems obvious, right?
You don't know where to start, who to turn to or even the right questions to ask.
It's a horrible situation, frightening, embarassing and demoralizing. Trust has been broken and you've lost a lot of hard-earned money, and now you don't know where to turn.
Maybe you have gone to the police, but they don't help. They don't have the time, the skills or resources.
But if you turn to Rexxfield, we can tell you within 7 days (in 3 days, in priority cases) where your cryptocurrency has gone and what your chances are of a recovery.
The good (and bad) news is you are not alone.
With more than 530,000 IC3 complaints to the FBI per year, your case is one of many. But our investigators take your case as an individual case, closely examining the OSINT and blockchain data to give you our expert recommendations on what can and can not be done.
If a recovery looks possible, we'll help you jump the law-enforcement queue because we do 70%+ of law enforcement's investigative work for them, making your case more attractive for law enforcement to investigate and close.
Introducing The Crypto Scam Evidence Package
The Crypto Scam Evidence Package (CSEP) pulls together the digital forensics of what happened, who did it and where the scammer is located. It provides the best evidence package available in the market, which can even be used to get your case near the front of the queue with your local or Federal law enforcement.
Best of all the Crypto Scam Evidence Package will give you a clear picture if and how to move forward, and even when you should walk away and not spend any more money chasing an impossible outcome.
We don't want you chasing an impossible goal, so it's just as important to know when it's time to move on as it is to know whether a recovery is possible, and if so how.
Whether the prognosis is good or bad, the evidence pack will give you the answers.
What You'll Discover Inside The Crypto Scam Evidence Package
Here's What The FBI Says About Our Crypto Report**:
"We relied heavily on the Rexxfield report in writing up our justification for why we wanted to open this case as your products made it very clear that there was significant ongoing criminal conduct targeting a victim in [location redacted]. Also to Rexxfield's credit, the complex frauds unit at [location redacted] was eager to open based in part on your work."
** the FBI does not officially endorse Rexxfield or our products. Rexxfield is a source, not a law enforcement agent. This feedback is provided by an individual FBI field agent, and it does not necessarily represent the views or position of the FBI more broadly.
Check Out Everything You Get In The Crypto Scam Evidence Pack

Before we start your investigation, Rexxfield will provide you with a brief introduction document that you can provide to law enforcement. This prepares the way for our full report.
It tells them what to expect and shows that you are a genuine case that will be worth their attention, making it much easier and saving precious time.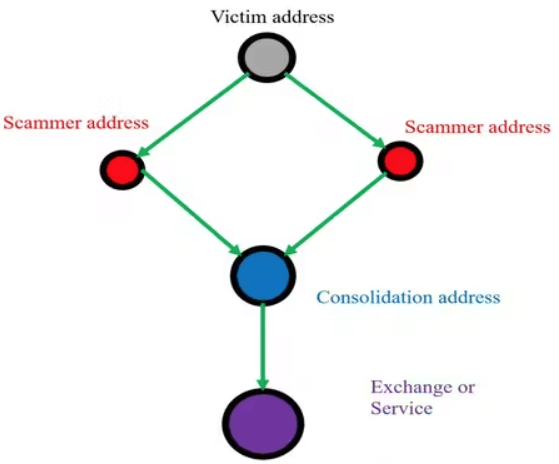 If you want to submit your case to the FBI, we will undertake the IC3 submission for you. We know how to answer the questions. We know what triggers the best possible response from the FBI so that your submission competes favourably against all the other IC3 submissions.
Note, this is only available in the PRO package.
We never know what we will find in an investigation. Sometimes we discover very valuable intel that increases your chances of a recovery through joining an existing law enforcement investigation or even civil action. It is rare, but it happens, and if we find this intel in your case, then we will organise a time with you to explain the strategy for pushing for recovery or compensation, under a new engagement.
If the scammer is still active, we will engage the scammer to 'play them at their own game.' We will socially engineer them to reveal valuable information about who they are, where they are, their operation, their connections, their methods and digital fingerprints.
The gathered information is all obtained legally, analysed and compiled into the evidence package for law enforcement.
If you want to submit your case to the FBI, we will undertake the IC3 submission for you. We know how to answer the questions. We know what triggers the best possible response from the FBI so that your submission competes favourably against all the other IC3 submissions.
Note, this is only available in the PRO package.
We never know what we will find in an investigation. Sometimes we discover very valuable intel that increases your chances of a recovery through joining an existing law enforcement investigation or even civil action. It is rare, but it happens, and if we find this intel in your case, then we will organise a time with you to explain the strategy for pushing for recovery or compensation, under a new engagement.
PLUS: For A Limited Time Get Access To
Rexxfield's own 'Tripwire' Scammer Catcher
Reveal astonishing digital footprints about the scammer using Rexxfield's proprietary TOP SECRET Tripwire.
REXXFIELD TRIPWIRE is a sophisticated combination of technical and social engineering tools that 'trips' up the scammer into revealing very specific digital identity information about themselves. It is 100% legal and proven to be submissable in most courts. Rexxfield has used TRIPWIRE to solve cases just like the case of James "Brewdog" Watts.*
REXXFIELD used TRIPWIRE to help defeat sophistcated VPN cloaking services to reveal the bad actor behind the harassment and extortion of James Watts.
Rexxfield's work resulted in the criminal conviction of Ms. Emili Ziem, and court-ordered restitution of the equivalent of USD $675,000.
(*soon to be a Netflix docu-series)
This bonus entitles you to one SCAMMER CATCHER TRIPWIRE use.
(managed by Rexxfield expert investigators)
VALUE USD$6,000
Is The Crypto Scam Evidence Package Right For Me?
Your losses are between $75,000 and $300,000 USD
Your loss is recent (happened in the last few weeks)
You want the peace of mind that you've done your best to get a recovery
You don't want to go day after day wondering what happened, and wondering if you could have done more
You want to help disrupt the scammers and reduce other victim numbers
Perhaps you have tried to bring your case to law enforcement and it has stalled
You are not down to your last dollar
You want answers, and you want closure.
Your loss is at the low end of the range (the lower your loss, the lower your chances are of a recovery), or
You're happy to 'walk away' without needing to know what happened
You are in a

jurisdiction

where it will be impossible to get any interest from local or national law enforcement
Too much time has passed, that the OSINT trail has gone cold and your crypto has been liquidated offshore
You've lost crypto through bad trading decisions, not criminality.
Basic
Basic Blockchain trace (what does this mean?)

Basic OSINT (what does this mean?)

Simplified report/proof of loss certificate
Standard
Full blockchain trace

Detailed OSINT

Social Engineering

Law enforcement primer

Full law enforcement submissable report

BONUS: ONE TRIPWIRE
Pro
Same as STANDARD Plus:

If you want to submit to the FBI, we will write your IC3 submission for you

Up to 3 hours of consulting time with your lawyers or law enforcement; e.g. to ghost write subpoenas, consult, or train

Expedited Service(3-5 day turnaround)

BONUS: ONE TRIPWIRE
Losses less than $75,000
No submission to law enforcement
You want to know what happened
You need a crime report to show other victims, for business records, or for the tax office.
Losses are between $75,000 and $250,000 USD
You want to pursue recovery and/or prosecution
You intend to submit to local law enforcement yourself, or
You have a lawyer engaged who needs court-admissible evidence
7 day turnaround
Losses between $250,000 and $500,000 USD
You want to pursue recovery and/or prosecution
You intend to submit to local or federal law enforcement yourself
You have a lawyer engaged who needs court-admissible evidence
You want to move FAST
It is your responsibility to submit the STANDARD and PRO evidence packages to law enforcement, lawyer or other representative. Rexxfield can provide consulting service at our hourly rates if you/they need post-report assistance. Please contact us at forensics 'at' Rexxfield for details.
The BASIC package is not suitable for law enforcement submission and will not be accepted.
WARNING
THERE ARE NO GUARANTEES!
THE CHANCES OF RECOVERY FOR ANY AMOUNT OF CRYPTOCURRENCY LOSS ARE VERY LOW EVEN WITH THE BEST AND FASTEST INVESTIGATION TECHNIQUES.
REXXFIELD WILL PROVIDE YOU WITH THE EVIDENCE DATA, BUT IT IS YOUR RESPONSIBILITY TO CONVINCE AND ENGAGE LAW ENFORCEMENT OR OTHER LEGAL AVENUES TO PURSUE RECOVERY.
REXXFIELD DOES THE INVESTIGATION WORK FOR YOU. WE DO NOT RECOVER YOUR CRYPTO FOR YOU.
How long will it take to do the investigation?
We aim to complete your investigation within 7 working days, but this can stretch our during times of higher workload or with more complex cases. In rare cases, it can take 2-3 weeks, especially if we are getting a slow response to a trip wire.
Do you hand my case report to the FBI?
No. The BASIC package is not suitable for handover to law enforcement because it does not provide the level of detail they require to initiate an investigation. The STANDARD and PRO packages are very suitable for handover to law enforcement, but we do not do that. It is your responsibility.
How long will it take law enforcement to investigate my case?
Due to the overwhelming number of cyber crime cases being filed with the FBI, we're seeing timelines increase. It used to be that victims would hear back from their IC3.gov submisions in 3-4 months. By last summer the initial call back from the FBI following an IC3 submission was 9 months. We're now hearing that the wait time can be as much as 10-12 months, and only if they decide to take the case.
Our report skips the IC3 review stage, saving you months to a year off the timeline from the beginning, but it may still take 1-2 months to get confirmation if the case is accepted.
And please remember that no one can influence whether the FBI accept a case or not. It's down to the field office and their case load. The threshold for case acceptance is getting higher and higher as the number of cyber crimes increase. Your losses simply may not be high enough for them to accept your case.
Is there a way to speed up the law enforcement process?
You will be doing that if you buy the PRO or STANDARD Crypto Crime Evidence Package on this page.  
We've been told that our case reports can save the agents months of leg work but your case will be one of many they're processing in parallel. You should expect t the case to take a further 6-9m from the time the FBI take it before it gets to the prosecution level.
ONCE BEGUN, THERE IS NO WAY TO ACCELERATE THE LAW ENFORCEMENT PROGRESS ON YOUR CASE. 
The best you can do, is buy our services and send our work to law enforcement field offices (or similar for your jurisdication) as soon as possible.
After that point, the agency will run their investigation using the data we provide, with a head start from our investigative work.
What are the chances of my case being successful in terms of recovery of my funds?
Honestly, not good, but better than if you do nothing.  Every case if different, so it's impossible to even guess until after the investigation is done. Equally no one can predict which cases will make it all the way to prosecution as there are too many unknowns – both at the level of the FBI agents assigned to investigate and at the US Attorney's office.  It's a long slow process.
We've put these packages together because our full prioce service (in five figures) just doesn't make sense with the low chances of recover for your level of losses.  These packages give you a chance of recovery, but there are no guarantees.
During the process, how frequently will I get updates on the progress?
While we're conducting our investigation and write up you'll get updates each time there's a material development in the case.  Once the investigation is complete, we will meet with you online to explain the results and hand you the report.
If you are asking about updates once you hand the report to the FBI (or others), once the case passes to law enforcement updates become very sporadic, and you will probably need to chase them. They won't give us an update unless they need more information or further assistance. They will update you occasionally but their focus is on investigation not constant correspondence. And please remember an agent maybe working 30+ cases simultaneously, their workload is unbelievably high. 
This will be an exercise in patience for you.
LEGAL DISCLAIMER
Rexxfield is not a law enforcement agency, nor an agent for law enforcement, nor a firm of attorneys and is not licensed to practice law in any jurisdiction. No attorney-client relationship will exist between you and Rexxfield or any Rexxfield representative with any reader or other entity unless otherwise expressly agreed in writing with a licensed attorney acting on behalf of a such an entity. No visitor or reader of any content within this message should act or refrain from acting on the basis of any content or by any author or administrator of content within this message, or any message or web site associated with Rexxfield or rexxfield.com or picdo.org domains except in reliance upon the advice of a qualified, and more importantly experienced attorney.
Rexxfield is a cyber crime investigation firm.  We investigate cryptocurrency and other cyber crimes.  We can not recover your lost or stolen cryptocurrency.  Recovery of your lost cryptocurrency can only be achieved through the successful actions of law enforcement and by extension the prosecutors and courts, to freeze exchange accounts and legally cease assets.
Rexxfield attempts to make it more likely that law enforcement will investigate your case, but Rexxfield has no control or influence over the decisions to move forward or not move forward by law enforcement or prosecutors.
Further more, law enforcement will not tell Rexxfield anything about your case, and nor will they provide us with progress updates. We are a source for evidence, and not an agent or representative of you or law enforcement.  Once you take the report from us, our obligations to you under this product end.  You acknowledge that it is you or your legal representative's responsibility to submit the evidence to law enforcement and not ours.  Rexxfield can not guarantee that any law enforecement agency will investigate your case and accept the information that we have provided to you.  
PLEASE UNDERSTAND, THAT TO REXXFIELD'S KNOWLEDGE, ONLY A VERY SMALL PERCENTAGE OF REPORTED CYBER CRIME (INCLUDING CRYPTO CRIME) IS PROSECUTED AND RESULTS IN FINANCIAL RECOVERY FOR THE VICTIM.
If you do not understand or agree to our Legal Disclaimer above, please seek a qualified attorney specializing in internet law and do not buy this product.
If you have read and understand the above disclaimer, you may go ahead and add this product to your cart.